Scissor lifts are versatile and essential tools for various projects. Their vertical lifting mechanism allows workers to access elevated work areas safely and efficiently. Whether you're painting a high ceiling, performing maintenance on overhead fixtures, or working on construction projects that require reaching significant heights, a scissor lift provides a stable platform to carry out your tasks.
If you're in the Greater Los Angeles area and searching for a reliable source to rent a scissor lift near you, look no further than Calgrove Equipment Rentals. With over 30 years of industry experience, a diverse range of equipment, 24/7 support, and convenient delivery services, Calgrove Equipment Rentals is your go-to partner for all your elevated work needs.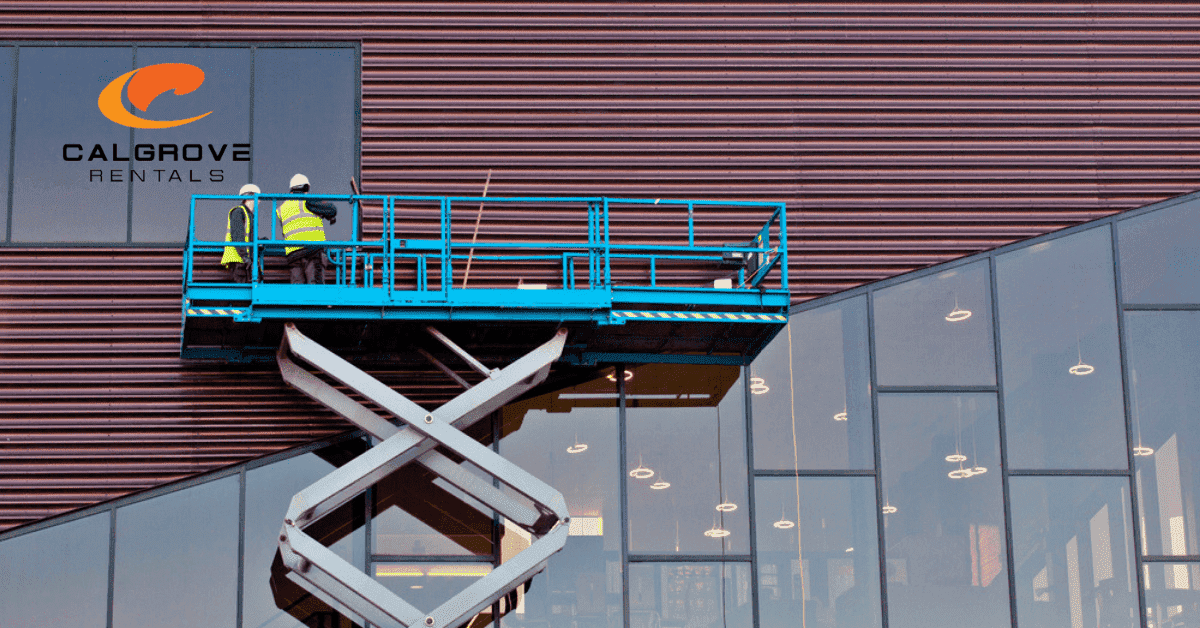 How to Rent a Scissor Lift from Calgrove Equipment Rentals
Renting a scissor lift from Calgrove Equipment Rentals is a straightforward process:
Contact: Get in touch with our knowledgeable staff either by phone at 818-805-1617 (San Fernando), 818-918-9606 (Canoga Park), or through our website. Share your project details and requirements to receive personalized recommendations.

Equipment Selection: Based on your project specifications, Calgrove Equipment Rentals will help you select the ideal scissor lift from our wide range of options.

Delivery: If you choose our delivery service, your selected scissor lift will be transported to your worksite promptly and efficiently.

Safety and Training: Prior to using the scissor lift, ensure you and your team are well-versed in its operation and safety features. If needed, Calgrove Equipment Rentals can provide guidance to ensure safe and efficient use.

Project Completion: Once your project is complete, arrange for the scissor lift to be picked up from your location, or return it to one of our two rental lots if preferred.
Experience the Calgrove Difference
Calgrove Equipment Rentals is the premier choice for renting scissor lifts in the Greater Los Angeles area. With a legacy of experience, a diverse equipment inventory, round-the-clock support, and convenient delivery services, we're the ultimate partner to elevate your projects.
Why Choose Calgrove Equipment Rentals?
Unparalleled Experience: When it comes to equipment rentals, experience matters. With over three decades of dedicated service in the industry, Calgrove Equipment Rentals has accumulated a wealth of knowledge and expertise. This means you can trust our team to provide you with the right scissor lift and guidance for your specific project requirements.

Wide Variety of Equipment: Calgrove Equipment Rentals boasts an extensive inventory of scissor lifts and other construction equipment. Whether you need a compact scissor lift for indoor maintenance or a larger model for outdoor construction, we have a wide selection of makes and models to choose from. This ensures that you'll find the perfect scissor lift to match your project's scope and demands.

24/7 Support: Construction and maintenance projects often operate around the clock, and challenges can arise at any time. That's why Calgrove Equipment Rentals offers 24/7 support to cater to your needs, no matter the hour. Our dedicated support team is ready to assist you with any questions, concerns, or technical issues you may encounter while operating our equipment.

Convenient Delivery Services: Time is of the essence, and getting your equipment to and from the worksite efficiently is crucial. Calgrove Equipment Rentals understands this and offers delivery services to and from both Los Angeles County and Ventura County worksites. This not only saves you time and effort but also ensures that you have the equipment you need exactly when and where you need it.
Don't compromise on safety or efficiency – choose Calgrove Equipment Rentals for all your elevated work needs. Contact us now for reliable scissor lift rentals near you.