Flooring & Resurfacing Tool Rentals in Los Angeles
Renting High-Quality Equipment to Residents of Ventura & Los Angeles Counties
Dealing with flooring is a big job, particularly when it comes to major services. Everything from tearing up tile to whole-facility polishing is a big ordeal that requires a lot of back-breaking work. However, Calgrove Equipment Rentals has the tools that you need to get the job done faster and easier. We offer rentals of some of the finest flooring tools and machines in the industry, and can help you make your job easier, no matter how large or small it might be.
Calgrove Equipment Rentals has proudly been the name to turn to when you need the right tool for the job in the Los Angeles area. Our vast collection of machines and equipment are all meticulously maintained to ensure they're ready to handle your needs. Our customer service puts you and your project first, and we're always ready to help however we can.
We're the greater Los Angeles Area's #1 source for:
Concrete polishing machine rental
Floor buffer rental
Concrete grinder rental
Floor sander rental
Flooring removal machine rental
Need help with a major flooring service? From a total teardown to a facility-wide polish, pick up the right tool from Calgrove Equipment Rentals! Dial (818) 805-1617 today.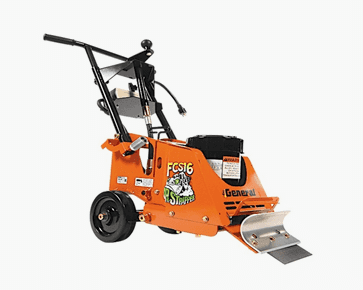 Floor Stripper
The FCS16 floor scraper allows you to quickly remove VCT tiles, rubber-backed carpeting, and other sheet-type flooring from wood and concrete surfaces in a hurry. The innovative Back-Saver™ Blade Control System allows you to adjust blade attack angle without stopping work, saving you time and increasing productivity.
Specifications:
¾ horsepower motor, 115 Volts AC @15 amperes
Direct-drive system
Features a 37-foot, 12-3, SJTW extension cord with GFCI
For use in non-hazardous locations
The Bull floor scraper has been expertly engineered to provide the perfect balance of weight, power and ram action. It excels at removing a large variety of floor coverings including Glued Carpet, Sheet Goods, Rubber & LVT, VCT/VAT, Hardwood, and Ceramic Tile depending on blade or attachment on unit.
Specifications:
2 horsepower motor, 110V, 60Hz, 16.4 Amps, 3,530rpm
Features removable weights
A working width of 14-inches
Floor Polisher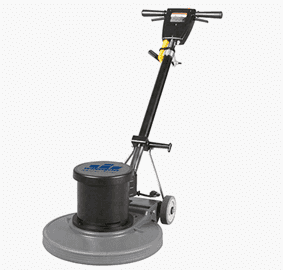 Our floor polisher systems offer a wide 17-inch polishing pad and incredible versatility. These machines make scrubbing, polishing, or surface stripping just about any tile, wood, or other type of floor a breeze. The handle can be adjusted to the height of a number of different operators.
Specifications:
1.5 horsepower motor turns polishing pad at 175 RPM
Features 50-foot power cord (requires 115-volt power connection)
Can practically treat nearly 2,000 square feet every two hours
Produces a low 63dB noise level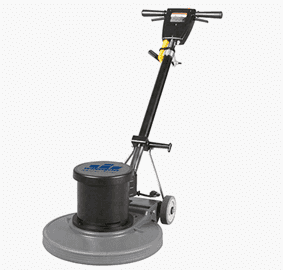 Single-Head Surface Grinder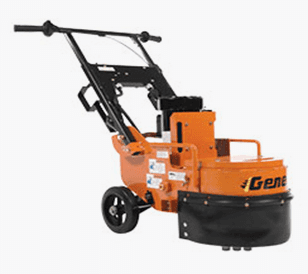 Need to make quick work of stripping the sealant off of your floor? Our single-head surface grinder tears through even the toughest surfaces to make the job a breeze. These heavy-duty grinders can be adjusted to the size of the operator, and even feature a dust collection attachment port!
Specifications:
1.5 horsepower motor spins grinding discs at 250 RPM
Requires 115 volts, single-phase AC power
Includes a 37-foot extension cord equipped with GFCI
Dual-Head Surface Grinder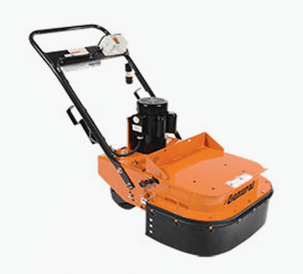 Our dual-head surface grinder can break through the heaviest of seals, varnishes, and polish layers on your flooring, letting you get to work providing the treatment your surface needs. This system also includes a three-inch diameter dust collection attachment port.
Specifications:
2 horsepower motor spins counter-rotating grinder discs at 250 RPM
Operates on both 115 and 230-volt single-phase AC power systems
Features adjustable operator handle and wheel heights
Concrete Planer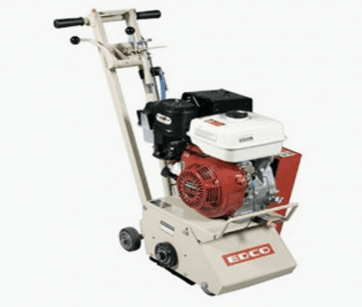 Our concrete planers are ideal for treating sidewalks, removing concrete or concrete coatings, cleaning or preparing flooring, creating non-slip surfaces, or even removing traffic lines and road markings from concrete or asphalt surfaces!
Specifications:
Features an eight-inch working width that scarifies 350 to 500 square feet per hour (at a 1/8" depth per pass)
Powered by a nine horsepower gasoline engine (recommended for outdoor use)
Removes traffic lines at 800 to 1,000 feet per hour
Trolley Hammer
The Hilti Breaker TE 1000-AVR is our flooring demolition specialist. When combined with Hilti's TE-SP New Wave chisel, this system delivers exceptional performance across a wide variety of materials and applications. This system takes care of concrete and masonry down on floor level, as well as up to waste level. Plus, it features a Makinex trolley for easy transport!
Specifications:
Features a single impact energy of 1,902 ft-lbs
Offers tremendous speed of 1,950 impacts per minute
Has a maximum chiseling performance of 476 cubic inches per minute
Offers A-weighted emission sound pressure of only 85dB
Let us provide you with the machine you need to make quick work of your flooring project! Contact the experts at Calgrove Equipment Rentals today.