Lawn & Garden Tool Rental in Los Angeles
Lawn and garden projects are great for the weekend warrior, but the cost of purchasing equipment may not be for every DIY-er, especially for special projects that only need to be completed once or twice. Calgrove Equipment Rentals is at your service with lawn and garden tools for rent in Los Angeles and Ventura Counties. Call today for rental information, pricing, and any advice you may need on what equipment to select for your project.
COMMON LAWN & GARDEN TOOLS WE RENT
Walk-Behind Trencher: A walk-behind trencher creates clean, straight lines that will make your lawn look its best. This lawn tool can quickly and easily dig trenches for irrigation, planting or other landscaping projects. Trenchers are also great for edging lawns and trimming roots.
Rototiller: A rototiller is great for breaking up the ground or soil, which is critical when you are trying to plant grass seed or add new plants to your landscaping. The rototiller is also perfect for removing weeds and for aerating the soil, which can help the roots of your plants to get the oxygen they need.
Sod Cutter: A sod cutter is used to cut through the grass and roots of an existing yard. This type of cutter makes it easy to remove sections of lawn for hardscaping, new flower beds, or simply replacing old sod with new. While using a sod cutter takes some time, it can be a relatively easy way to make impactful changes to your lawn. It's also an environmentally-friendly solution because it allows you to avoid damaging the underlying soil and reuse the sod elsewhere.
Stump Grinder: This lawn tool is used to remove tree stumps from the ground. The machine has a cutting blade that spins at a high speed, grinding the stump into small pieces. Once the stump has been completely ground down, it can be removed from the hole using a shovel, and it leaves the area ready for replanting.
Two-Person Auger: A lawn auger consists of a long, hollow tube with a blade at one end and a handle at the other and is used to drill holes in the ground. Augers are usually made of metal or plastic and come in various sizes. The most common type of lawn auger is the two-person auger, which is designed for use by two people. It's most often used for installing fencing, installing poles, or planting trees or other landscaping.
Specific Product Models We Offer for Rent include: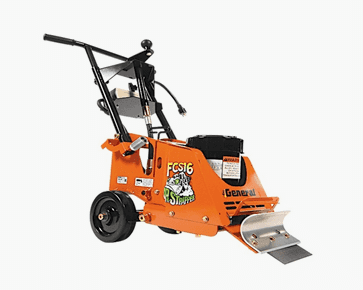 ​
WALK BEHIND TRENCHERS - TORO TRX-16
Specifications:
Engine: Model: 14.5 hp (10.8 kW) @ 3,600 rpm Kawasaki® FS481V, V-twin
Fuel Type: Gasoline
Cooling System: Air Cooled
Fuel Tank: 2.1 Gallons
Start Method: Recoil
Transport Speed (Fwd/Rev): 2.4 mph / 1.2 mph
Hydraulic Pressure: 2,900 Psi
Hydraulic Flow: Trencher: 10.0gpm: Traction (each pump): 9.5 gpm
Reservoir Capacity: 6.3 gallons
Headshaft Speed: 226 rpm with 315ft/lbs of torque
Dimensions: 33.8"x82.5x46"(WxLxH)
Weight: 1114lbs
Boom: Depth-24" with a 4" wide cut

ROTO TILLERS - BARRETO 1320
Specifications:
DIMENSIONS

Weight: 560 lbs.
Height: 44"
Length: 77"
Width 27" (685.8 mm)

ENGINE

Engine: Honda GX390 Briggs 16 hp V-Twin

Fuel: Gasoline

Power: hp (kW) at 3600 RPM: -11.7 hp (8.73 kW)

Fuel Capacity: 1.72 gallons

Ground Drive: Forward: 0-80 rpm

Tine Speed: 260 rpm

SOD CUTTER - BLUEBIRD SC550
Specifications:
Engine: Honda GX160
Fuel Type: Gasoline
Power: 5.5hp
Drive System

Drive Train: Chain Drive
Clutch Mechanism: Centrifugal, throttle controlled
Transmission Type: 4-Speed with Reverse
4-Wheel Drive: Yes
Gears, Forward/ Reverse: 4/1

Dimensions

Product Size( LxWxH) : 54x24x36
Weight (less fuel/water containers): 330 lbs
Working Width: 18 inches
Working Depth: Up to 2.5", adjustable in ¼"

Log Splitter: Iron and Oak BHVH3018GX
Specifications:
Cycle Time: 12 Seconds
Cylinder Size: 4.5 in. x 24 in.
Clevis Type: 1.75-in. Rod
Displacement: 270cc
Dry Weight: 705 Lbs
Engine: Gx270
Fuel Type: Gasoline
Engine Brand: Honda
Log Length: 25 in. Max
Operation: Horizontal And Vertical
Splitting Force (tons): 30 Tons
Splitting Height: 32 In.
Tires: 4.8 In. X 8.0 In. Highway Rated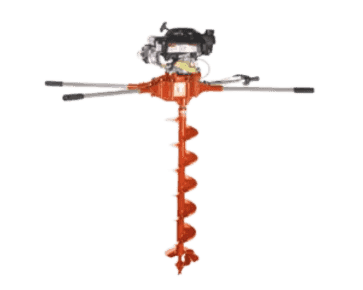 Two Man Auger: M330H
Specifications:
Dimensions

Assembled Depth (in.): 58 in
Assembled Height (in.):15 in
Assembled Width (in.):24 in

Details

Horsepower: 5.5 HP
Maximum torque: 190 lbs
Weight (lbs.): 71 lbs
Auger Bit Sizes: 4in, 6in,8in,10in, 12in
Fuel Type: Gasoline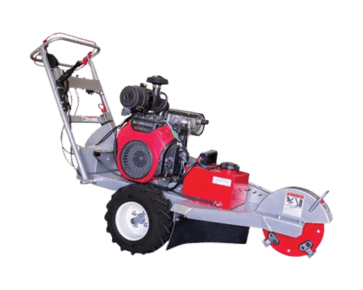 Stump Grinder: Hydrostatic Self-Propelled Honda GX630 Electric Start
Specifications:
Bearings:1.375 In. Diameter
Cutter Wheel:14 In. Dia. X 3/8 In. Thick
Cutter Wheel: 14 In. Dia. X 3/8 In.
Cutting Capacity: 24 In. Above Grade, 18 In. Below Grade
Displacement: 688cc
Drive: Direct Belt Drive; 4 Groove Power Band with Idler Bearing Belt Tensioners
Dry Weight: 500 Lbs
Engine: Gx630
Fuel Type: Gasoline
Engine Brand: Honda
Fuel Type: Gasoline
Starter: Electric
Teeth: Greenteeth™ 700 Series Teeth (8)
Tires: 16 In. X 6.50-8 In. Adjustable Brake Band
Stump Grinder: Hydraulic Stump Grinder Barreto 30SGB
Specifications:
Engine: Briggs & Stratton Vanguard V-Twin 31hp
Fuel Type: Gasoline
DETAILS:

Height: 49.5″
Length (head to side): 79″
Length (head straight): 98″
Width: 35.5″
Weight: 1,700 lb.
Ground Drive Forward: 290 ft/min
Ground Drive Reverse: 180 ft/min

WHEEL SPECIFICATIONS

Cutting Wheel: 19.2″ diameter to tooth
Cutting Teeth: 0.750 thick, 16 green teeth
Cutting Depth: 12″
Cutting Height: 32″
Head Swing: 134˚, 99.7″ arc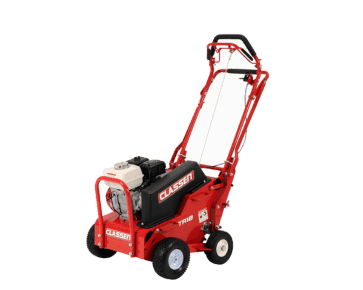 Lawn Aerator: Classen TA18AH
Specifications:
Engine: Honda® GX120
Fuel Capacity: 0.53 gal
Fuel Type: Gasoline
Height: 53.8"
Speed Adjustment: Remote Throttle
Drive: Primary: 4L section V-belt
Drive: Tine and Wheel
Speed: up to 4.2 mph (adjustable)
Aeration Width: 16"
Core Depth: Up to 3"
Tine Pattern: 3.4" x 7"
Coverage (sq.ft./hr): up to 29,500
Width: 27.2"
Length: 46"
Folded Height:25.2"
Folded Width: 27.2"
Folded Length: 37.2"
Total Dry Weight: 257 lbs. (incl. weights)
Removable Weights: 2 x 21.5 lbs
Lifting Weight: 214 lbs.
Modeled Holes/sq. Ft.: 6.5
Calc. Holes/sq. Ft.:6.5
No of Tines: 30 tines
Front Wheels: 9" Solid Rubber Turf Tread
Suggested Reading:
To rent equipment for your next lawn and garden project, give us a call today at (818) 805-1617.
OUR CUSTOMERS TRUST US
Read Past Reviews
This company plays no games when it comes to rentals! - Jessica C.

This place is awesome from so many aspects. - Biff B.

These guys are very customer service oriented and are now my go to rental yard! - Mark D.

Would highly recommend for rentals! - James C.

You get the TLC at Calgrove that you will never get from the big box retailers. - Elias C.
BUILt TO LAST
Why Calgrove Rentals?
Available 24/7 for Support

Two Locations for Your Convenience

Over 30 Years of Rental Equipment Experience

Wide Range of Rental and Purchase Options

Delivery and Pick Up All Over Los Angeles County

Modern, Diverse and Reliable Fleet of Equipment
The Rental Guys,

We Make it Happen
If you have any questions or are ready to rent an equipment, contact our team.