Los Angeles Compactor Rental
The Right Machinery for Your Soil Compaction Needs
A soil compactor is an essential piece of equipment for increasing soil density and reducing soil settlement. Well-compacted soil has a greater load-bearing capacity and provides greater stability for sidewalks, driveways, homes, commercial buildings, and other structures. There are a variety of soil compaction machines available today, and it's important to choose the one that's right for your project. When trying to decide between a vibratory plate and a rammer, you'll need to consider the size, location, and longevity of the project, as well as many other factors.
Calgrove Equipment Rentals is here to supply the right equipment for the job at hand. When you choose our company for compactor rental in Los Angeles, we will handle every aspect of your rental with the upmost professionalism and personalized service. You'll have a team available to support you 24 hours a day, 7 days a week. For your convenience, we offer delivery and pick-up all over Los Angeles & Ventura Counties.
For your best rental experience, contact us online or call (818) 805-1617.
Rent a Vibratory Plate Compactor in Los Angeles
Resembling a push mower, vibratory plate compactors utilize a heavy steel plate on the base of the machine. The plate, powered by gasoline or diesel, rapidly strikes the ground with tremendous force to compact the soil. These machines come in various sizes and styles to meet your specific needs.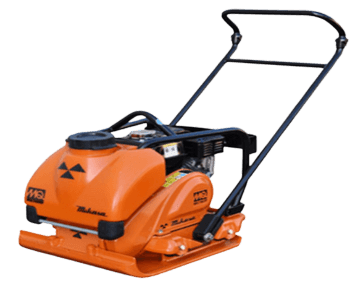 Vibratory plate compactors are best for:
Granular soil – Looser soils that consist of sand, silt, and gravel can be compacted by a vibratory plate in dry or wet conditions. This type of soil has no cohesive strength but responds well to the high vibrations of a vibratory plate.
Larger areas – Vibratory plate compactors are designed to work well for larger, flat areas. Whether you are compacting soil in a driveway or parking lot, this type of machine is perfect for the job. The wider plate size allows for more uniform layers.
Specifications:
Centrifugal Force: 3372 lbf
Exciter Speed: 6000 VPM
Plate Size: 19.7 x 20.7 in
Max Forward Speed: Per Min: 82 ft
Water Tank Capacity: 13.7 qt
Overall Length: 41.75 in
Overall Width: 19.75 in
Overall Height: 37 in
Operating Weight: 229 lb
Fuel Type: Gasoline
Rammer Compactors for Rent in LA
Rammers are known for being lightweight and portable. Having a sleek body, these compaction machines are easy to maneuver and great for accessing hard to reach places. The smaller, more focused plate allows for deeper compaction, sufficiently compacting the soil without the need for numerous passes. They can be especially beneficial for holes and deep trenches.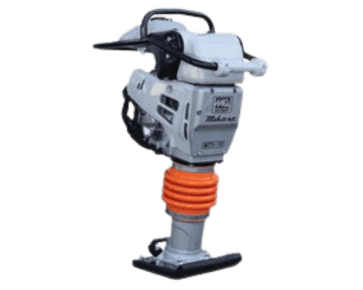 Rammer compactors are best for:
Cohesive soil – Soil with high clay content and moisture generally requires the use of a rammer to achieve optimal compaction. The machine's smaller plate size allows for more focused and direct impact.
Tight spots – The compact shape of a rammer allows ease of access to smaller areas where it's difficult to maneuver vibratory plate compactors. The rammer compacts the soil in a more concentrated manner, which allows for filling more soil in each layer.
Specifications:
Blows Per Min.: Up to 690*
Impact Force: 3,350 lbf
Shoe Jump Height: 3.1 in
Shoe Dimensions (LxW): 13.4 x 11.2 in
Travel Speed Per Min: 55.8 ft, 17 m
Fuel Tank Capacity: 2.7 qt
Overall Length: 31.0 in
Overall Width: 13.8 in
Overall Height: 40.4 in
Operating Weight: 165 lb
Engine Make/Model: Honda GX100
Start Method: Recoil
Engine Power: 2.8 HP
Fuel Type: Gasoline
Book Your Rental Today!
While some projects may only require either a rammer or a vibratory plate, you may find that having both is ideal for all the circumstances you'll encounter. Give us a call today so we can help you choose the machine that will help you get the job done most effectively and in the least amount of time.
Contact Calgrove Equipment Rentals at (818) 805-1617 today for soil compactor rental in Los Angeles.
OUR CUSTOMERS TRUST US
Read Past Reviews
This company plays no games when it comes to rentals! - Jessica C.

This place is awesome from so many aspects. - Biff B.

These guys are very customer service oriented and are now my go to rental yard! - Mark D.

Would highly recommend for rentals! - James C.

You get the TLC at Calgrove that you will never get from the big box retailers. - Elias C.
BUILt TO LAST
Why Calgrove Rentals?
Available 24/7 for Support

Two Locations for Your Convenience

Over 30 Years of Rental Equipment Experience

Wide Range of Rental and Purchase Options

Delivery and Pick Up All Over Los Angeles County

Modern, Diverse and Reliable Fleet of Equipment
The Rental Guys,

We Make it Happen
If you have any questions or are ready to rent an equipment, contact our team.